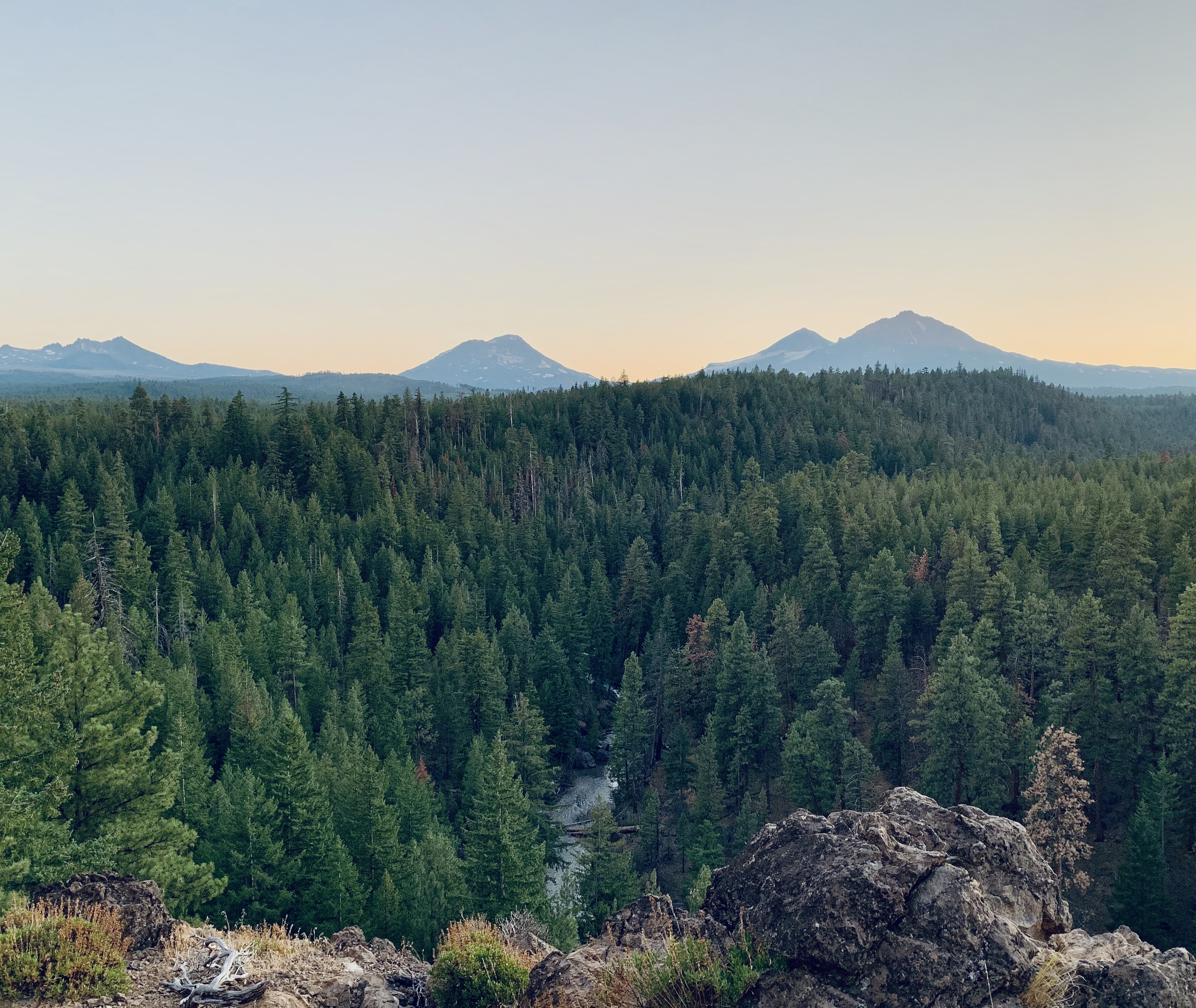 The forests in Oregon are constantly evolving and changing. In this past year, Oregon forests have seen devastating and massive wildfires that are shaping the landscape for years to come. Paul Hessburg, research landscape ecologist, talks about the fact that we are living in the
Era of the Megafire
, and fundamentally, we need to learn to live with fire in our forests. "But we have to make some decisions about how we're going to live with fire. The not having fire is an option that's not on the table. Not having smoke is also a non-option. They're there for the foreseeable future for generations until the climate changes so that fire is a low probability occurrence, and it becomes cooler, but that's not on the horizon," said Hessburg.
Hessburg talks about how a lot of what our future will hold, is up to the people living in these forests. "And it isn't for ecologists to basically say 'here's what you should do.' It's a social values thing. What do you want of your forest? What are the long-term expectations that you have from them?"
Humans interacting with the Western U.S. landscapes has affected what we see today. We are seeing an increase in these devastating wildfires that will only continue due to climate change and fire seasons expanding into the windy season across the West.
Bart Johnson, professor of ecology at the University of Oregon, is starting to conduct research in the Eugene area having to do with climate modeling to better prepare our communities and forests for wildfire. Johnson also emphasizes the fact that this massive wildfire dilemma can be partially solved by using social networks, making this a social problem. Johnson states: "[These] social influence networks and organizations can be better used to confer adaptive capacity, the ability to respond proactively, so as to reduce the risk of wildfire."
Jinny Reed, former fire information officer with the Sisters Ranger District, has been well aware of these changing forests for years.
During a forest walk with Jinny Reed and her ten year old daughter, Reiko, we talked about the Whychus Watershed and what we are seeing within a fire scar in the Three Sisters Wilderness. These woods are dominated by Douglas Fir, Ponderosa Pine, and Mountain Hemlock with a sagebrush and bitterbrush sea as far as the eye can see on either side of the trail.
Fire has ravaged many parts of this trail system and up into the wilderness West to the mountains for many years, however fire suppression practices have created dense, fuel-driven forests. Much like the area along the McKenzie River, we see an landscape that once thrived with green plants and vegetation along the water now turned into a burnt, charcoaled branch along the trail.
One of Reed's main anecdotes and themes throughout our conversation centers around the idea that we need to get used to the idea that these forests are bound to burn and that fire can be healthy for our forests.
Throughout the walk, we were connecting what we saw in these high desert forests, with the forests West of Sisters where the Holiday Farm Fire occurred. Much of the fire scar that we saw is in an area where the Milli Creek fire burned in 2017. Most of what we saw, is what the McKenzie Corridor looks like today after the 173,000-acre Holiday Farm Fire that started September 7th, 2020.
Reed is a strong believer in organizations and the public working together to protect our properties, forests and homes. "But be prepared, okay, if we get a fire here and everybody has to be on board and support it, even if it's in August". For Reed, the fact of the matter is that fire is supposed to happen in these forests. It is up to us to decide how we work together and treat our forests in order to protect their future.
The Holiday Farm Fire occurred during a windstorm that was unprecedented. "How do you look forward to future climate under which it's quite likely that we'll have more of this hotter, drier summers. And although it's unusual to have these dry East winds coming through, they can happen any time. Just because it happened last year, it may only happen once every 100 years. But that next 100-year event could be next year," said Bart Johnson, ecologist and landscape architect. Johnson also spoke about the four switches that become switched on to create the types of wildfires we experienced over the summer. The switches are ignition source, fuels, topography and wind. One of the most notable aspects of climate change in the Western US is the increase in the amount of wind -- particularly hot, east winds -- which is what drove the Holiday Farm Fire as a crown fire, running through the McKenzie corridor and leaving nothing in its path.
As Paul Hessburg notes, "Fire is coming to a neighborhood near you. It's inevitable. How are you going to invite it in?" As a community, we need to consider the fact that we live in these forests and need to learn to live closely with fire. We must better network together to prevent catastrophic loss when fire does happen in these western forests.
"And it isn't for ecologists to basically say 'here's what you should do.' It's a social values thing. What do you want of your forest? What are the long-term expectations that you have from them?"