PEOPLE


THE NEW NORMAL

Portraits of supportive community members in the McKenzie River Valley
By Anna Mattson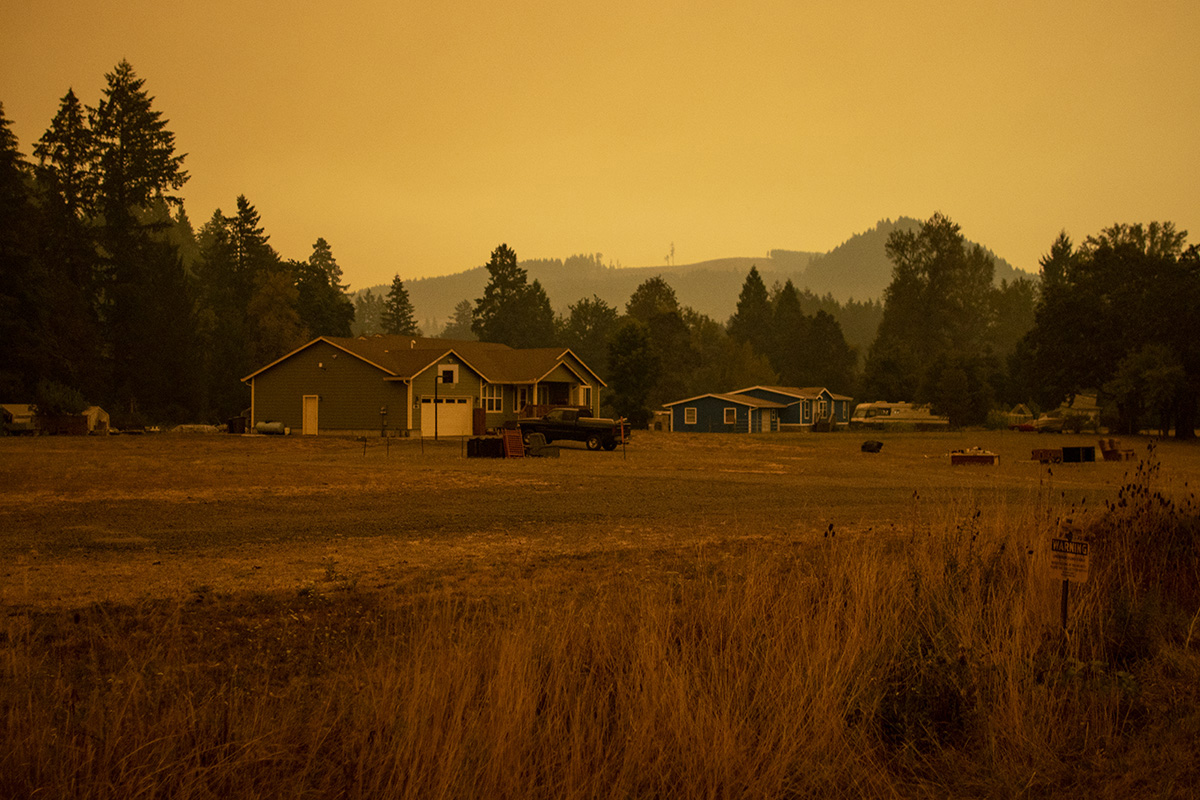 Orange haze from ash and smoke envelops a home in Marcola, Oregon. Tuesday, Sept. 8, 2020. Photo by Payton Bruni.

BURNER


On Sept. 7, 2020, the clear blue, summer day took on an air of menace — the sun transformed into a bright red orb that hung in a blanket of orange, starkly different from the clear blue that painted the sky just hours before. The cause was the yet-to-be-named Holiday Farm Fire, which was burning uncontrollably 50 miles east of Eugene, Oregon. It would soon consume 463 homes and torch nearly 131,000 football fields of landscape along the McKenzie River Valley in Lane County, Oregon.
Soon after hearing the news, Eugene resident Adam Burner headed to Thurston High School in Springfield to donate goods to survivors. The fire didn't feel real until Burner saw a family pull up in a car –– the blaze melted off the bumper. A mother comforted her children in the back seat while their father sat behind the wheel. He looked like he'd been to a tanning salon. "'Hey, what's cookin'?" Burner recalled saying to the man, who laughed.
Burner originally showed up to donate toilet paper, water bottles and pet food. But once he realized the magnitude of the Holiday Farm Fire, he wanted to do more. He and Eugene resident Christine Cameron founded the nonprofit LOVEFirst, just days after the fire. Since then, they've helped more than 800 individuals and have delivered a million pounds of goods to survivors, according to the organization.
Burner and Cameron are two of the hundreds of people who donated time and money to help the 2,500 displaced survivors recover from the fire. The 2020 Oregon fire season left Oregonians unprepared, and communities were unwillingly forced to confront the effects of warming temperatures and climate change. The 2020 Oregon fire season was one of the worst in the past decade for acres burned, according to a report by the Northwest Interagency Coordination Center.
The Holiday Farm Fire is not the first time Burner has encountered wildfire. His hometown, Chico, California, is a ten-minute drive from Paradise, where his childhood home burned to nothing in November 2018. To Burner, helping survivors felt like a necessity. Fortunately, his employer at Broadcom supported his decision to take paid time away from work and help. At the time, Burner used the majority of his sick days. Today, he juggles his job and his volunteer work with LOVEFirst.
"I grew up in a culture of serving," Burner said. "My dad was a police officer, and my grandfather was a police officer. It's just the way that I was raised. I knew if I didn't help, I would regret it for the rest of my life."
When immediate assistance began to dwindle in the months after the fire sparked in early September, Burner kept working. On Nov. 4, Burner legally incorporated LOVEFirst as a nonprofit. Their relief center on Mohawk Boulevard in Springfield is still lively with donors bringing goods. Part of the nonprofit's goal is to successfully transition from immediate, conveyor belt-like service to a more intimate, long-term kind of relief. Burner said that LOVEFirst adds to the initiatives that locals have already been taking.
"I grew up in a small town. So I get that there's some pride in the community and what they're doing; there's self-sufficiency there," Burner said. "We're supplementary to what they're already doing – we're not the saviors of their situation."
The need for food and clean water has dissipated while mental health has been a newer priority lately, and survivors are requesting more spiritual and mental support. According to a report by the U.S. National Library of Medicine, as many as 37% of people impacted by a natural disaster could have post-traumatic stress disorder and long-term emotional damage.
Burner knows firsthand how a small gesture can mean a lot to someone who's just experienced trauma.
As an example, he shared a story about a little boy. It was in the early days of on-site volunteerism. People were flowing in and out of tents at Masonic Lodge 11 in Eugene. Burner spotted a little boy wearing a Star Wars outfit. He reminded Burner of his middle-born son. Then Burner remembered the small gift in his truck his wife had given him — a small, Baby Yoda plushie.
"I knew that I needed to give this kid a Baby Yoda," Burner said.
The boy took the toy and smiled. After a while, the boy's mother came over to Burner. She told him that her son had been silent all day through the fire. Once Burner gave him the plushie, the boy started talking with his family again.
"That was one of the most emotional moments for me," Burner said. "A little Baby Yoda doll made a difference."
RED CROSS
The American Red Cross was also on-scene the evening of Sept. 7. Staff and volunteers handed out meals and helped survivors find temporary shelter from the growing fire. Volunteers served more than 300,000 meals, offered 10,083 overnight shelters and distributed nearly 10,000 emergency items.
Carisa Hettich, executive director for the Southwest Oregon branch, said their resources were stretched to breaking point as wildfires torched several regions of Oregon. Six wildfires burned at once in the 11 Oregon counties that Hettich oversees: Klamath, Jackson, Douglas, Lincoln, Linn and Lane.
The Red Cross categorizes disasters by the level of severity. Big hurricanes on the southeast coast, for example, top out at level seven. Hettich said the Holiday Farm fire was also considered a level-seven disaster.
"Honestly, it was one of the toughest times in my whole career," she said. "Oregon is not a high disaster state. That's a Louisiana, Texas, Florida, California thing. We don't have level sevens."
CHEF BECKY
Becky McConnell, a professional chef based in Eugene, was scheduled to cater a wedding in early September. The venue sat in a wide-open ranch, surrounded by blueberry rows and evergreen mountains. Whitewater Ranch was a fixture in the McKenzie River community of Leaburg.
Much of the 1,000-acre venue was lost to the Holiday Farm Fire's flames and the wedding was called off. But McConnell's work was only beginning. McConnell rushed to Red Cross volunteers at the evacuation center and asked: "Who's in charge of the food?"
They told her the on-duty cook hadn't shown up yet. McConnell insisted she do it herself. They obliged, and McConnell connected with other volunteers via social media. She rushed to Costco where she loaded up supplies. McConnell had already planned on hosting a dinner the next night. But when the fire doubled, she knew she couldn't wait. So she rented a truck so she could drop more than 50 rotisserie chickens to 400 evacuees. Community members, through social media, loaded McConnell up with gift cards and cash — she raised more than $9,000 in less than a week.
"People were just walking around like zombies because they were evacuated from their homes," she said. "Some of them only had their clothes on their backs. I saw babies covered in ash."
McConnell said that being a business owner allowed her drop everything to help, so she continued to use her talents on first responders. McConnell donated 30 dinners to firefighters, replete with chicken, roasted potatoes, bacon spinach salad and brownie for dessert.
After the fire, she traveled up the McKenzie River to deliver food for an event. Seeing the destruction reminded her of why this kind of work is important.
McConnell described a camp trailer in the middle of what looked like the detonation site of a nuclear bomb.
"It was just so emotional and raw," she said. "There was a camp trailer in the middle of what looked like a nuclear bomb went off."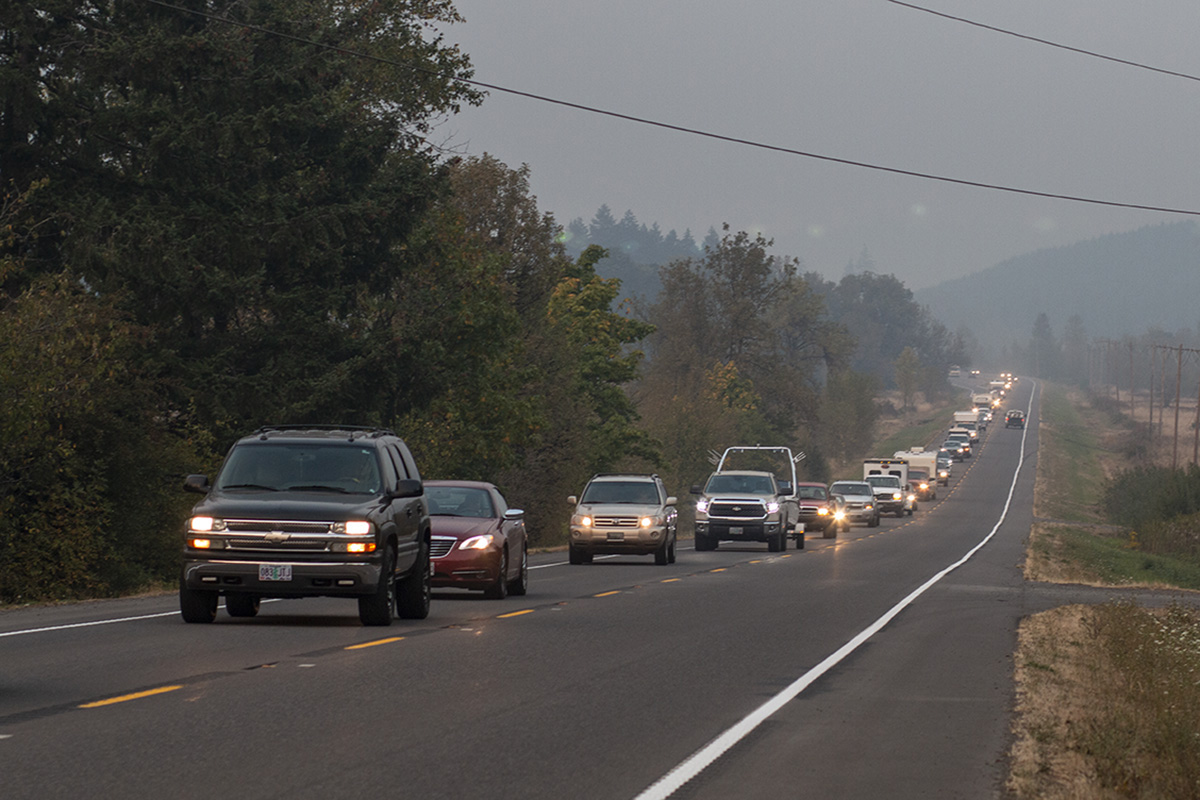 A line of cards driving from Mohawk Valley toward Eugene, Oregon. The Holiday Farm Fire grew to 37,000 acres in size and burned on both sides of Highway 126 and the McKenzie River. At 6:45 p.m. Tuesday, residents in the Mohawk Valley north of Marcola Road and Hill Road were also issued a Level 3 evacuation notice. Photo by Payton Bruni on Sept. 8, 2020.
FEMA
In January 2021, FEMA announced a new initiative to protect resources before intense climate events strike. President Biden's administration allocated $1 billion to pre-disaster mitigation for climate-related disasters, primarily investing in resilient infrastructure. While that alone can't deter catastrophes, the initiative could prepare communities for the worst.
Paul Corah, FEMA's spokesperson to Oregon, said that because the fire was one of the largest in Oregon's history, there was a massive mission to tackle. Once nonprofit groups help survivors immediately, FEMA steps in to deal with the financial burden of the recovery process.
For individual support, survivors have 60 days to apply for assistance after the disaster. Residents can sign up for temporary housing or grants, which are used in place of insurance funds for the uninsured. Corah said
that it's a lengthy process.
They're working as fast as they can.
"But it is so stressful if you're a survivor," Corah said. "Properties are still in rubble."

HOMES FOR GOOD


The Holiday Farm Fire destroyed 463 homes. And still, 200 people are displaced from the disaster, according to Lane County spokesperson Devon Ashbridge.
Locals affected by the fire are currently staying with family or friends, while some remain up the river in RVs. Most people are staying in hotels paid for by the Oregon Department of Human Resources, Ashbridge said.
In late February 2020, Lane County partnered with Homes for Good to purchase the Red Lion Inn hotel in Eugene for $5.56 million, according to an Association of Oregon Counties report. Homes for Good is a local nonprofit that connects low-income residents with affordable housing. They created the initiative together to give fire survivors stability while they move toward permanent housing. The ODHS sends over the housing referrals, then Homes for Good provides rooms. Many of those referrals are large families that may need two rooms, said Wakan Alferes, supporting housing director at Homes for Good.
"You can imagine how challenging it is to have four kids living in a hotel room, along with two dogs and a cat," Alferes said.
ODHS and Lane County cover operational costs for the building, Alferes said, and they also provide three daily meals to residents. There's no monetary exhange between participants and Homes for Good. In the future, Alferes said they plan to convert the space to supportive housing for the unhoused.
"We're building the car as we're driving it," Alferes said.
Homes for Good hasn't finished the hotel yet, but for now, people can have a bed to sleep in and a cup of coffee in the morning.


SHEDS OF HOPE


Up the McKenzie River, a group of nine students lined up at McKenzie High School's woodshop class on April 10, eagerly awaiting instructions.
"If anyone loses their finger, we all lose our finger," said Lee Kounovsky at the front of the shop. Bright morning light shone through large windows. Students-made signs with nails hammered into them spell out phrases across the room. One read "Um, now what?" and another read "positive." Kounvosky, 61, a volunteer, guides students in building shelters for Sheds of Hope, a project designed to help Holiday Farm Fire survivors.
During morning sessions, Kounovsky guides students through daily projects. They start by using a Skilsaw — a power tool with a circular blade — to slice wood planks. He warns students that the power tool might kick back a bit, and that it's best to go slow. Soon, the room erupts into ear-piercing sounds of wood against metal.
"Who wants to mark?" Kounovsky said above the noise. "If we had a guy named Mark here, this would be the perfect job for him."
This is the second day of the project. Four of the nine students lost homes to the fire. And for some, McKenzie High School isn't their usual school. Teacher Jaylee Jordan, 28, drives students on Fridays and Saturdays from Eugene to Blue River and back — that averages 150 to 200 miles each day.
Jordan lost her sister to COVID-19 in January 2021. She said she felt like the best way to honor her was to continue to teach and participate in projects like Sheds of Hope.
"My sister is the reason I became a teacher," Jordan said. "The students I am working with have all gone through varying levels of grief and loss from COVID-19 and the Holiday Farm Fire. It was healing for me to help them through their journey while also working through my own."
The project renewed her love for teaching. Jordan struggled to while teaching remotely during the Covid pandemic, so doing something hands-on exited Jordan. The Sheds of Hope project helped her feel connected during a time of grief.
Both Jordan and Kounovsky work in education. Jordan used to act as a substitute teacher for Kounovsky, who's spent over 26 years in education. When he first heard about the fire, he knew he wanted to help. Initially, he didn't have any plans. Then the local pastor, Doug Farrington, connected him with One Hope, a nonprofit collection of churches in Eugene that focuses on community service.
Moving forward, Kounovsky hopes students learn real-life skills, especially since disaster relief will become more common as climate disasters strike.
"I hope there's always funding so we can continue this," Kounovsky said. "If there's a disaster in Lane County, I just want to be able to say that each school has five sheds ready to go."
Lee Kounvousky chats with high school students during lunch on the Sheds of Hope project. Photo by Austin Johnson on May 8th, 2021.
CLIMATE CHANGE
Whether most survivors return to the McKenzie River Valley isn't clear. Blue River resident Judy Casad, a real estate agent with Windermere Real Estate of Lane County,was one of the few in the area whose home escaped damage. Of the 18 houses that lined her road, only five remained.
"You just look at the topography now and know it's never going to be the same," Casad said. "It's going to green up again, but it's so much loss for so many people."
Plots are selling rapidly — many before residents list them on the market, Casad said. Those plots are desirable to young metro buyers who want to enjoy the McKenzie River.
But wildfires are on the rise.
The Holiday Farm Fire is evidence that climate change will continue to impact Oregonians. NASA reports record drought conditions across the Western United States in 2020, and the hottest summer on record in the Northern Hemisphere. In Oregon, there were unusually dry, strong winds in 2020, all of which provided the perfect conditions for a ravenous fire season. There is a pervasive role of climate change in the increasingly intense and long fire weather.
The McKenzie River Highway is a mix of rebirth and destruction. The road slips through stunning mountainous scenery, and the vibrant blue water is evidence that life there will only continue, ebb and flow with time. Budding ferns peak from the ash-covered landscape. Burnt trees nestle among those still standing, tall and untouched from the fire's selective talons. Headstone-like chimneys sit where houses once were.
If the planet continues to warm at the rate scientists predict, raging forest fires will become perennial for the Pacific Northwest. All people and places worldwide must learn to live with the rising temperatures and extreme weather.
Welcome to the new normal.
Highway OR-126 and the McKenzie River near Blue River, Oregon. Drone footage by Sarah Miller.